THANK YOU……. to everyone who came out to vote in the school board budget & elections yesterday–May 16th.
FRIENDS looks forward to working with the reelected (Bill Casey) and newly elected (Naomi Hoffman) members of the board in protecting the 34 acres and creating a true Central Park for the district.
There were two Board Member seats open and four Candidates.  We presented 3 questions about the 34 acres, leadership on the board, and transparency with the public.  All 4 candidates replied and we hope you will review their answers in the attached documents below.  
So in alphabetical order here they are:
School Board Candidate Blais Questions & Answers
School Board Candidate Casey Questions & Answers
School Board Candidate Gleason Questions & Answers
School Board Candidate Hoffman Questions & Answers
NEXT STEPS:
In order to keep the momentum of the vote going, we would ask for your involvement in a few things….
First, please contact Shenendehowa School Superintendent Robinson and individual members of the School Board and urge them to move forward QUICKLY with discussions for a reasonable transfer of the 34 acres to the town of Clifton Park.  You can email them at boe@shenet.org, or via U.S. mail at 5 Chelsea Place, Clifton Park, NY  12065
Second, consider attending the next Board of Education meeting on Tuesday, April 11th, 2017 at 7:00 PM in the Gowana library.  FRIENDS will be making a public statement during the Public Comment period at the beginning of the agenda.  You could make your own comments, or just be part of the audience in order to show your support for School Board action on keeping this property in the public domain
 SUCCESS!!
The vote is in and the results are impressive:
Vote NO votes = 5442    Vote YES votes = 2323     That comes to a 70% to 30% result.   Compare that to last year's school budget vote turnout of less than 2600.   The referendum turnout was impressive and representative of the sustained depth and extent of concern about what happens to the 34 acres.
A special thank you to all the people who helped support our efforts in this project, and a sincere thank you to everyone who braved the lines and the weather to cast their vote today.  Whatever your vote was, we look forward to the conversation about the next step for this precious piece of land.
VOTE "YES" Flyers Use of Under-Handed Tactics is Shameful
Please see ou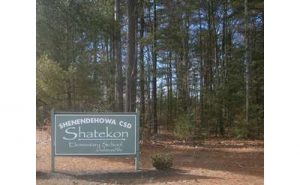 r Press Release with comments and concerns about making this about dirty tricks instead of a conversation within the community about different opinions on an important issue. 34 Acres-Press Release 04-01-17
You can also watch the WNYT-TV news coverage here:  WNYT-TV Nightly News Story 03-31-17
For info on the 34 acres, please read our newsletter: A "Shenendehowa Central Park" for all the District
MOST IMPORTANTLY REMEMBER TO VOTE "NO" TUESDAY, APRIL 4TH 7:00 AM TO 9:00 PM
GOWANA MIDDLE SCHOOL—MAP OF THE SHEN CAMPUS:  Shen Campus Map-Gowana Middle School Voting
ABSENTEE BALLOTS:
If you are going to be out of town for the April 4th vote, or concerned about bad weather or for another reason, then you might want to consider getting an absentee ballot for the referendum vote.
For most people this is a two step process.  First you have to get an application and submit it to the School District Office.  Then you will receive the ballot which you can sign and return in the enclosed envelope.
We have attached a pdf version of the application.  You can use this, or call the District Office at (518) 881-0623 to mail you an application, or stop by the District Office at 3 Chelsea Place Clifton Park for an application.
Once you have completed the application then you can mail it into the District Office at the above address, or even drop it off in person.  If you drop it off, then you could also wait for them to give you a ballot and vote right there and then.  If the ballot is mailed to you then you need to return the ballot in the enveloped included with the mailing.
Here is the application:34 Acres-Absentee Vote application
A NEW "SHENENDEHOWA PARK" FOR THE DISTRICT
This will be our new rallying cry! And we are preparing to present a series of articles on topics and concerns we have heard expressed over the referendum vote to keep the 34 acres from being sold for development to BBL.
We plan to talk about the economic benefits of open space or parkland, how a park pertains to all district towns, the quality of the donated land, and many others.
See the drop-down menu on this page for our reasons and explanations of our position. We welcome these discussions!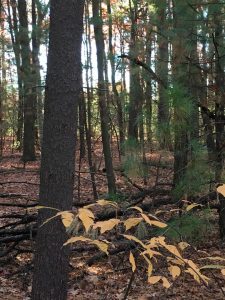 FORESTS ON THE 34 ACRES
BBL plans to develop 17+ acres on the high, dry ground of the 34 acres. This land is covered with trees today. A tree inventory of a one-acre "test parcel" located in the midsection of the property yielded these results:
FOREST CHARACTER: Well-drained soils, mixed deciduous & conifer tree stands from brush, to saplings, to mid-story growth, to climax canopy. Mixed species includes white pine, oak, beech, maple & cherry.
METHODOLOGY: 200′ x 217′ on 2-sides. 43,000 sq ft. Paced off for visual inspection. Assumption that "test parcel" is similar to all 17+ acres of development.
COUNT: All trees over 3″ diameter=127, Trees over 8″ diameter=53
Total trees: 127 x 17=2159, Total trees >8″: 53 x 17=901
CONCLUSIONS: High density of mature "second growth" trees in town's commercial district is unique, attractive & irreplaceable.
1. Mature character allows easy access due to lack of jungle-like understory.
2. Due to tree maturity & proximity to commercial and residential development, informal "herd" paths are presently extensive.
3. Extensive and varied species & tree succession examples provide an invaluable opportunity for all persons–especially close-by elementary students to observe, study and appreciate tree species quantity, quality, and variety.
4. THIS EXTENSIVE, ACCESSIBLE AND VARIED NATURAL FOREST LABORATORY WILL BE DESTROYED IF THE SITE IS COMMERCIALLY DEVELOPED.
ANOTHER STEP TOWARDS SUCCESS–VOTE SET FOR APRIL 4th!
The Shenendehowa School Board voted tonight (02-24-17) to accept our petitions requesting a public vote on their resolution to sell the 34 acres to BBL Construction for development. They moved forward with setting a date for the vote on Tuesday, April 4th, 2017.
The vote will take place in the usual Gowana Middle School gym, and there will also be an exit survey taken to gage voter concerns and ideas.
We will soon share our plans for keeping this issue in the public forum and articulating our concerns and responses to the various issues that have been raised on this deal. STAY TUNED!!
SCHOOL BOARD MEETING — TUESDAY, JANUARY 24, 2017 7:00 PM GOWANA MIDDLE SCHOOL LIBRARY
We delivered the 7000+ petition signatures on January 4th and attended the January 10th School Board meeting to request they be accepted and a vote scheduled. Many people joined in and supported the vote during the Pubic Comment period. But the Board chose to delay that decision.
Now another School Board meeting will take place this Tuesday, January 24th and we are hoping that there will be a decision to move forward with a vote at this meeting. Unfortunately, there will be NO Public Comment period at this meeting.
Nonetheless, we urge our supporters to show up for the meeting on 1-24-17 to hear the School Board's next step.
Come and listen to the School Board decision and scheduling.
Lots of Coverage at the "Park" Site!
We had plenty of TV and Newspaper coverage at our Press Conference on Wednesday, Jan 5th at the 34 Acres. We need to continue to get out the word on the success of the petition drive and hope you got a chance to see it. Please share with all your friends and contacts!!
Here is another link from one of the local tv station:
http://wnyt.com/news/clifton-park-open-space-group-submits-petition-to-shenedehowa-schools-for-land-referendum/4362088/
WE DID IT — 7000+ SIGNATURES!! THANKS TO YOU…
Here is our Press Release:
CLIFTON PARK, NY — Friends of Clifton Park Open Space (FRIENDS) delivered a petition today to the Shenendehowa Central School District (District) Clerk requesting that the School Board conduct a referendum on the proposed sale of 34 acres of surplus school land to BBL Construction. As prescribed by NYS Education Law Section 1804, qualified voters of a central school district can require the sale of real property be submitted to a vote of the district residents if 10% of the voters request a referendum by petition.
The District advised FRIENDS that they would need to obtain the signatures of between 5,100 and 5,500 qualified voters to force a referendum. The petition submitted by FRIENDS contained the signatures of over 7,000 voters which is more than 2½ times the total number of ballots cast in the Shenendehowa 2016-2017 budget vote in May, 2016.
"We are very pleased by the overwhelming support of our petition drive by the District voters," said Frank Berlin, President of FRIENDS. "More than 150 volunteers carried petitions for qualified voters to sign during one of the busiest times of the year in snowy winter conditions and below freezing temperatures. The number of signatures that were obtained is indicative of the deep concern that people have regarding the sale of this property and future development in the Town Center."
On December 6, 2016, the Shen School Board approved the sale of 34 acres of pristine, undeveloped land. This parcel is virtually the last open space in the heart of Clifton Park. As required by the law, the petitions had to be submitted by Friends within 30 days of the School Board's vote, and we have met that requirement.
Mr. Berlin noted, "The petitions were completed and submitted within 29 days despite the loss of two major holidays. We believed the voters of the school district deserved an opportunity to have an up-or-down vote on the sale of the property especially considering the amount of earlier public support for keeping the property in the public domain. We trust the Board of Education will schedule the referendum in the near future."
During the past year, FRIENDS has advocated that the property be preserved as a "Central Park" that could be enjoyed by all residents of the district, including use by the students attending schools on the Shen Campus or participating in library programs at the nearby Clifton Park-Halfmoon Library.
The referendum will permit the public to vote on whether the sale of the land to BBL can go forward. If the sale is rejected by the voters, then the concept of a "Central Park" can be reopened with the School District. It will also allow time for a SEQR evaluation regarding the quality and suitability of the acreage within the parcel.
The Shenendehowa Board of Education meets again on Tuesday, January 10, 2017 in the library located at Gowana Middle School at 7:00 p.m. FRIENDS encourages petition supporters to attend this meeting.
REGARDING THE SHEN LETTER TO PARENTS…..
We have seen the letter from the School Board to all Shenendehowa parents and are surprised at its inaccuracy.
First, it is NOT the Clifton Park Open Space Committee which is circulating the petition. That group is an arm of the Town of Clifton Park and the town has advised the school district on this point quite forcefully. Our Friends of Clifton Park Open Space group is a 501C3 organization of private citizens. This very basic misconception of the parties involved is quite surprising on its own.
Second, we have tried to be very clear that our latest petition is simply asking for an up-or-down vote on the School Board's decision to sell the 34 acres to BBL Construction for development. The petition package we circulated asking people to help us collect signatures was very specific on this point. To read the petition itself, also makes this clear. We may have our own ideas about how the land could be used, but unless it is protected from this specific sale, then it will be lost to substantial development forever.
Third, our concerns over the suitability of the "donated" land for any kind of park are not unjustified. There are various wetlands on the property to be sure. However, we are also concerned about the effects of clear cutting the trees for new parking lots and of bull-dozing a new road out onto Moe Road which would be needed for any commercial access to the land. Since neither the Board nor the developer has done any kind of SEQR (State Environmental Quality Review) as required by law to define the effects of these concerns, then the Board can also not claim the land's value for specific purposes.
It is our hope that seeing the extent of public support for this referendum, that the School Board will proceed with a more inclusive approach and approve a public referendum on their decision.
Let the residents have a voice please!
Meanwhile visit these establishments where you can sign the petition & support our drive:
• Vischer Ferry General Store 357 Riverview Road, Vischer Ferry
• West End Bagel at 5 Southside Drive in The Shops at Village Plaza
• Halfmoon Jewelry, 1686 Route 9 (just south of Rt 146)
• Riverview Orchards, 660 Riverview Rd, Rexford
• Business Products Company of North East Inc., 1763 Route 9, Halfmoon
The petition drive is underway and we are very encouraged by the extent of pubic involvement and support.
To get involved yourself, you can always contact us at friends@cpopenspace.org to receive information directly.
You can also visit our Facebook page for information: https://www.facebook.com/Friends-of-Clifton-Park-Open-Space-1573987856210338/
Remember….this is a new petition drive asking for a public vote on the School Board's decision to sell the 34 acres to a developer. We must gather over 5000 signatures on a paper petition–we cannot accept electronic signatures for this public referendum request.
THANK YOU TO EVERYONE SO FAR–more to come!!
We were disappointed that the Shenendehowa School Board made a decision on December 6th regarding the 34 acres which favors more development and more congestion in our Town Center. We would have preferred they work to keep the property in the public domain. They have ample means to do so but have chosen not to use them.
We do not understand why the School Board would choose a developer over its citizens when so many members of the community have voiced a desire for continued public use of the parcel. It is especially disconcerting that the very first time any information on the bids was revealed, that the Board acted to move forward immediately with a decision and without allowing any public input on the information presented.
Nonetheless, the School Board has now spoken, so we will now move forward with a petition drive in order to force a public referendum on the matter, as well as a legal challenge on the lack of transparent procedures. We are saddened that this issue may have to be the subject of a divisive debate. However, we believe we have strong support throughout the district for our approach and will do the work necessary to protect the School Board and the district from a bad decision.
We have initiated our petition drive and many of our supporters have already received a petition package to start. We will also be having public drives at various meeting areas or you can contact us at friends@cpopenspace.org to receive information directly.
You can also visit our Facebook page for information: https://www.facebook.com/Friends-of-Clifton-Park-Open-Space-1573987856210338/
It is not our intention to adversarial. However, this decision will have such a long-term and irreversible community impact, that it is vital to also have community input before any final determination. The Board has passed a resolution awarding the bid. We now have 30 days to secure enough petition signatures to force a public referendum on a yes-or-no vote on the Board's resolution–or this land will be lost forever.
How could it be bad policy to seek the public's input on a once-in-a-lifetime, irreversible decision??
Join us and be heard!!
Previously posted:
Clifton Park is working to create a vibrant and welcoming Town Center.  At the heart of that Town Center is a property parcel of 34 acres which currently belongs to the Shenenedehowa School District.  The School Board is seeking to sell that property.
Friends of Clifton Park Open Space would like you to join us in supporting the purchase of this land by the Town for the creation of a new Central Park in the Town Center District.  We have urged this action to both the School Board and the Town Supervisor.  We encourage you to do the same.
Here are some some of our arguments you might have seen in the newspaper or at the School Board Meetings:
FCPOS 34-acres-School Bd-comments-12-6-16
FCPOS Ltr 08-16 School Bd Property Remarks
FCPOS Ltr to Editor 2016 School 34 Acres
Please sign our Electronic Petition for:  A "Central Park" in Clifton Park
https://www.change.org/p/boe-shenet-org-a-central-park-for-clifton-park-new-york?recruiter=597812843&utm_source=share_petition&utm_medium=copylink
See Some of the Newspaper Coverage on A "Central Park" in Clifton Park
Community News Article 10-21-16
Times Union-Chris Churchill Article 9-20-16
Schenectady Gazette Articl-1 9-23-16
Schenectady Gazette Article-2 9-27-16
Schenectady Gazette Article-3 10-12-16